Read Time:
13 Minute, 20 Second
Documents Required for US Student Visa 2023 – Applying for a student visa to study in US can be a bit daunting, but we're here to help! In this blog post, we'll outline the required documents for a successful application. Read on for more information.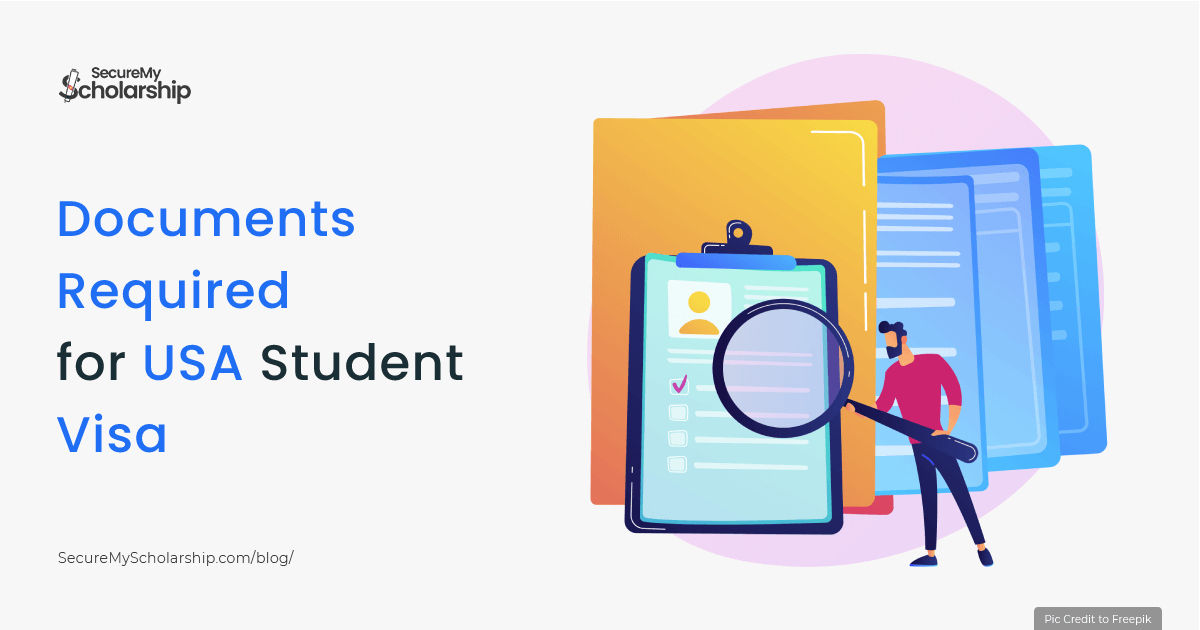 US Student Visa Interview Documents Checklist
Preparing for a US student visa interview is a crucial step in the immigration process. The most important part of getting ready for the appointment is gathering all of the appropriate documents and bringing them to the interview. Documents required at an interview vary depending on each individual case, carry a file organizer with you and keep all your documents intact.
Passport and other identification documents
Providing proof of financial resources
Submitting evidence of academic credentials
Producing any other relevant information that may be requested.
Being organized and having all these documents prepared beforehand can help make the interview easier and smoother.
Financial Documents Required for US Student Visa
Applying for a student visa to Study in the United States is an exciting yet daunting process. While every student's visa application is unique, all applicants must provide documents that prove they can support themselves while studying in the US. One of the most important documents you need when applying for a student visa is proof of financial stability.
You must provide documents such as bank statements and tax documents to show that you have adequate funds to cover living expenses and tuition throughout the duration of your studies. Do your best to be prepared and organized in order to make your application process as smooth as possible and ensure a successful entry into the US.
Medical Test for USA Student Visa Documents Required
In order to qualify for a student visa in USA, applicants must provide documents that demonstrate compliance with medical requirements. This can include vaccination records, a valid passport, proof of financial capability and documents detailing any physical or mental conditions. Applicants should be aware that some documents could take longer to receive than others and should therefore begin the documentation process as early as possible.
Furthermore, all documents need to be translated into French or English before presenting them for assessment; this additional step will ensure that there are no delays in the application process. With the correct documents at hand, students can look forward to their academic journey and gain invaluable experience abroad.
Documents Required for Biometric for US F1 Visa
Acquiring a US F1 visa requires the submission of several documents in order to prove that you are admissible. These documents range from standard paperwork such as your passport or visa application form to more rare ones such as educational transcripts and financial resources certificates.
Additionally, a biometric appointment must be scheduled in order for the government to verify your identity and run a more comprehensive background check on you. For this appointment, it is important to bring proof of identity documents, like a valid passport and either an unexpired US driver's license or an international identification card with photo ID.
Also, don't forget to bring documentation proving the purpose of your visit such as an acceptance letter from a US educational institution for students or evidence of work permits for trainees or exchange visitors. Having all these documents prepared before the biometric appointment will facilitate the process and make sure you leave everything ready when its time to travel abroad!
US Student Visa Interview Documents Checklist
Student visa applicants to the United States should be aware of the documents they need to provide when attending an interview.
Valid passport
A Confirmation Page from their student visa application form and two photos taken within the past six months that meet US visa specifications.
Applicants will also need transcripts from any prior educational institute.
Bank statements and proof of funds for the full duration of their stay in America.
It is important for prospective students to ensure all of these documents are organized neatly into folders before attending the interview. Doing so helps demonstrate preparedness and may encourage a smoother process.
1. A Valid Passport – make sure your passport is up to date and will not expire while you are in US
If you are planning to visit US it is very important to make sure that your passport is valid and up to date. Without a valid passport, you may be unable to enter the country or even if allowed entry, it may cause issues with your visa validity. With this in kind, it is best to check the expiration date of your passport prior to travel, ensuring that it will not expire while in US.
If you notice that your passport is nearing expiration, ensure that you renew it well in advance of any travel as processing time can take several weeks and possibly even months depending on which entity processes your request.  To guarantee safe and hassle-free travels, make sure that you have a valid passport when entering US.
2. A Completed Visa Application Form
The visa application process can feel intimidating; however, it doesn't have to be difficult. Once you have completed a Visa Application Form – including providing all the required personal and supplementary information – you are one step closer to your travel dream! It is important to remember that providing all the necessary documents ensures that the application review process will be as quick and smooth as possible.
Allowing enough time to gather and prepare documents before submitting your form is essential for avoiding certain delays. This is why having the peace of mind once a completed Visa Application Form is handed in can bring such a sense of relief. So take the plunge, collect all the documentation, check each box off your form, and enjoy your travels!
3. A Photograph
Finding a photograph that meets all the requirements for a project can be challenging. It's important to look not only at the aesthetic quality of the photo, but also its technical qualities. Every picture should have a good level of exposure and contrast, as well as an ideal color balance which brings out the focus of the image.
Good lighting is also essential as it can make or break an image. These features should all be present in order for a photo to meet any specific requirements set forth by the task. Taking all these factors into consideration when searching for that perfect photograph helps ensure success in completing any project.
4. The Appropriate Fee Or Funds
Setting an appropriate fee can be a tricky process, especially for business owners. It is important to consider several factors when determining which rate to charge, including the overall value of the services or products being offered, local economics, and competitors' rates. Additionally, one should always stay up to date with current industry standards. If a business owner costs their services too low, they could end up losing money and may struggle to gain clientele.
Conversely, setting fees too high could scare away customers who would have likely had a positive experience with their product or service. Striking the optimal balance between staying competitive and preserving profitability will help any business make the most out of their services.
5. Evidence of ties to your home country
Finding evidence of your home country can be a rewarding and exciting experience. Whether you are new to the area or have lived in the same place for years, it's a great feeling being able to connect with your roots. You could start by visiting local festivals or events that are inspired by your home culture, where you'll find art, music and people who share a similar background.
Take the time to familiarize yourself with organizations that focus on social causes important to your home country as well – they volunteer opportunities, workshops and conferences organized throughout the year. Ask around within the community – chances are you know someone who has connections back at home and they can clue you in on other ways to involve yourself. Remember, finding evidence of ties to your home country can bring out some amazing experiences so don't hesitate to get searching!
These are the documents you will need in order to have a successful US student visa interview. Make sure that you have all of these items before your interview so that the process goes smoothly. If you have any questions about the visa process, make sure to consult an expert so that you can get all the information you need.
FAQs about Required Documents for USA Student Visa
Q1. How much bank balance is required for student visa in US?
The amount of bank balance required for a student visa in the US can vary depending on a few factors, such as the school's location and the student's individual circumstances.
Generally, to obtain an F-1 student visa, a student must demonstrate that they have sufficient financial resources to support themselves during their studies in the US. The US government sets a minimum requirement for the amount of funds that a student must have, but this amount may not cover all expenses, and some schools may require students to have more funds than the minimum requirement.
As of 2022, the minimum amount of financial support required to obtain an F-1 student visa is $12,960 per year. This amount is based on the estimated cost of living for a student in the US, and it does not include tuition and fees. However, it's important to note that this is the minimum requirement, and some schools and visa officers may require students to demonstrate that they have more funds available.
Q2. Does US give student visa easily?
The process for obtaining a student visa involves completing an online application, paying the required fee, and scheduling an interview at a US embassy or consulate. During the interview, the applicant will be asked questions about their educational goals, financial situation, and ties to their home country.
While the US government is committed to supporting international students, the visa application process can be competitive and challenging. However, if the applicant meets the necessary requirements and provides the required documentation, they have a good chance of being approved for a student visa.
Q3. What is the total cost of US student visa?
The total cost of obtaining a student visa for the US varies depending on a few factors, such as the country in which the applicant is applying, the type of visa, and any additional services required. However, some of the common fees and costs associated with obtaining a US student visa are:
SEVIS fee: The SEVIS fee is required for all F and M visa applicants and is currently $350 for F visas and $200 for M visas. This fee is paid to the US government and covers the costs associated with administering the Student and Exchange Visitor Information System (SEVIS).
Visa application fee: The visa application fee is paid to the US embassy or consulate where the applicant applies for their visa. The fee varies depending on the country but is typically around $160.
Travel costs: Applicants may need to travel to the US embassy or consulate to attend an interview, which may involve additional travel costs such as airfare, lodging, and transportation.
Health insurance: Many US schools require international students to have health insurance, and the cost of this insurance can vary depending on the school and the level of coverage required.
Optional services: Applicants may choose to use additional services, such as expedited visa processing or document translation, which can increase the total cost of obtaining a US student visa.
Overall, the total cost of obtaining a US student visa can range from a few hundred to several thousand dollars depending on the individual circumstances of the applicant. It's important for applicants to research the specific requirements and fees for their situation to ensure they are prepared for the cost of obtaining a US student visa.
Q4. Is there an interview for US student visa?
Yes, typically there is an interview for US student visa applicants. The interview is conducted by a consular officer at a US embassy or consulate in the applicant's home country. The purpose of the interview is to verify the information provided in the visa application and to assess whether the applicant meets the eligibility criteria for a student visa.
The interview usually takes place after the applicant has submitted their visa application and supporting documents. During the interview, the consular officer will ask the applicant a series of questions about their educational background, their intentions in the US, and their ties to their home country. The officer may also ask about the applicant's financial resources and their ability to support themselves during their stay in the US.
It's important for applicants to prepare for the interview by reviewing their application and supporting documents, and by being ready to answer questions about their academic plans and goals. They should also be prepared to explain any discrepancies or inconsistencies in their application, and to provide additional documentation if needed.
Q5. Why does US student visa get rejected?
US student visa applications can be rejected for a variety of reasons. Some of the most common reasons for visa denials include:
Lack of ties to the home country: A consular officer may deny a student visa if they believe the applicant does not have sufficient ties to their home country and may be likely to overstay their visa in the US.
Incomplete or inaccurate application: If an applicant fails to provide all the required documentation or provides inaccurate or incomplete information on their application, the consular officer may deny the visa.
Ineligibility for the visa: If the applicant does not meet the eligibility criteria for the student visa, such as if they are unable to demonstrate that they have been accepted to a US educational institution or if they do not have sufficient funds to support themselves during their stay in the US, the visa may be denied.
Security concerns: If a consular officer has concerns about an applicant's background or believes that they may pose a security risk to the US, they may deny the visa.
Prior visa violations: If an applicant has previously violated US immigration laws or overstayed a previous visa, they may be deemed ineligible for a new visa.
It's important for applicants to carefully review the eligibility requirements for the student visa and to ensure that they provide complete and accurate information on their application. They should also be prepared to explain any potential issues or concerns that may arise during the application process.
Q6. How long does US student visa take?
The length of time it takes to obtain a US student visa can vary depending on a number of factors, including the volume of visa applications being processed at the embassy or consulate where the applicant applies, the time it takes to schedule an interview, and the complexity of the application.
In general, it's a good idea for applicants to apply for their student visa as early as possible, as it can take several weeks or even months to complete the application process. The US Department of State recommends that applicants apply for their student visa at least 90 days before their intended date of travel to the US.
After submitting the application and supporting documents, applicants may need to wait several weeks or longer to be scheduled for an interview at the US embassy or consulate in their home country. The actual interview typically lasts only a few minutes, but the waiting time to secure an interview can vary widely.
Once the interview is completed and the consular officer approves the visa, the length of time it takes to receive the visa can vary depending on the embassy or consulate. Some applicants may be able to pick up their visa within a few days, while others may need to wait several weeks for their visa to be processed and mailed to them.