Scholarships for MBA Programs – A Master of Business Administration is a graduate degree focusing on business administration and investment management. The core courses in an MBA program cover various areas of business administration such as accounting, applied statistics, human resources, business communication, business ethics, business law, managerial economics, management, entrepreneurship, marketing, supply-chain management, and operations management in a manner most relevant to management analysis and strategy.
It originated in the United States in the early 20th century when the country industrialized, and companies sought scientific management. If you're planning on pursuing a postgraduate degree, nothing is quite as beneficial to your career as an MBA. It's one of the most popular routes for graduates as it increases employment opportunities and maximizes your potential.
But, because of the high costs of these programmes many people remain reluctant to invest in them and although worrying about the debt you'll be accumulating is justified, it's worth stressing the benefits of an MBA. At SecureMyScholarship we offer the best scholarships and discounts to assist you in saving a great portion of your fee!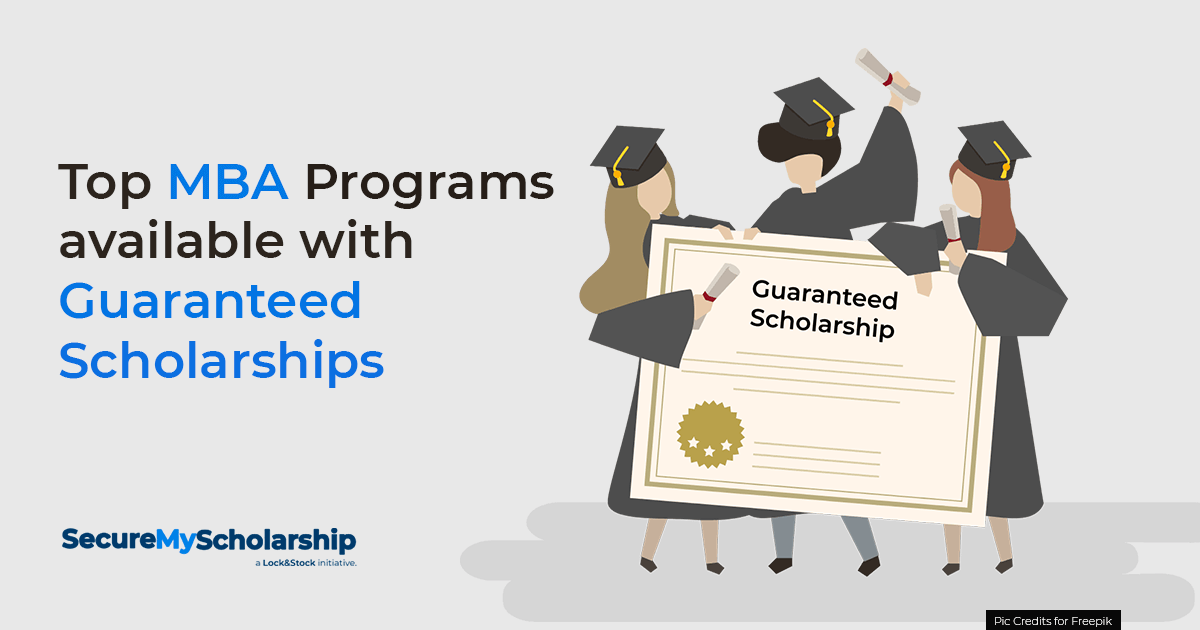 Scholarships for MBA Programs
A few relevant points which validate the need for a MBA:
Increase in Your Earning Potential
Easier to apply and secure Promotions
You Enjoy Greater Job Security
It Makes You More Employable
You Gain Employer Support
Fosters and Builds Superior Business Knowledge
It Provides You with Networking Opportunities
Completing an MBA program demonstrates a commitment to learning, improving, and applying skills that can help a company succeed. Additionally, professionals with MBAs feel a greater sense of confidence in their marketability, as well as the wealth of information they can bring to various endeavors.
The rank of the university and the country you plan to study in play an important role in the effectiveness and worth of your MBA, considering this the UAE is among the top destinations offering a wide range of MBA programs across multiple well known universities.
A few of the best universities which offer scholarships for a MBA in the UAE:
University of Wollongong in Dubai (UOWD) is the first international Australian university in the UAE, offering 43 degrees which are internationally accredited from over 10 industry sectors, taught by qualified academic professionals that are all PhD holders. Join UOWD today and become part of our global alumni spanning more than 152,000 working professionals across four international campuses.
The university offers a 15% scholarship on the first year of your MBA, to add value to this and help you save – we offer an additional Dhs 3,000 fee waiver upon enrolment through SecureMyScholarship.
BITS Pilani, Dubai Campus is the international campus of Birla Institute of Technology and Science, Pilani, India and is located at the Dubai International Academic City. Set up in the year 2000, it is among the pioneer institutions in Dubai, and exclusively dedicated to offering quality engineering and technology education.
The dynamic campus has a modern infrastructure and provides an opportunity to gain well rounded education in an international environment by highly qualified faculty. The campus has smart classrooms, cutting edge lab facilities with the latest equipment's and a Creative Lab which is open 24/7 for the students to work and transform their innovative ideas into viable concepts.
The university offers up to 20% in scholarship for the first year of MBA; we offer an additional Dhs 500 amazon voucher upon enrolment through SecureMyScholarship.
Westford University College
Westford University College aims to prepare the future Business Leaders by actively embracing the constant dynamic changes across the globe. Their curriculum and range of Business management programs equip the students and professionals to develop a global perspective for the wide ranging issues to create a sustainable impact on the society.
A Dhs 9000 fee waiver is offered by the university on postgraduate courses, you are entitled to receive a Dhs 200 amazon gift voucher when you to apply through SecureMyScholarship.
Apply for a scholarship at a top university to pursue a life changing course of study. Feel free to contact our admissions team to secure your scholarship and for assistance in the application process.
We have partnered with over 1000 universities across the globe and offer a wide range of courses at the best universities globally. At Lock&Stock we offer much more for students, than just scholarships – browse our user-friendly app for the best offers across retail outlets, online retailers and other premium services which have been heavily discounted for YOU!!