Read Time:
10 Minute, 55 Second
Packing List for International Students to Canada 2023 – The moment you get your offer letter from the university, you will start making your packing list to travel to Canada. While purchasing your listed items, you need to adhere to the guidelines shared by the airlines. So, here we are going to share the organized packing list for an international student that we mostly give to our students.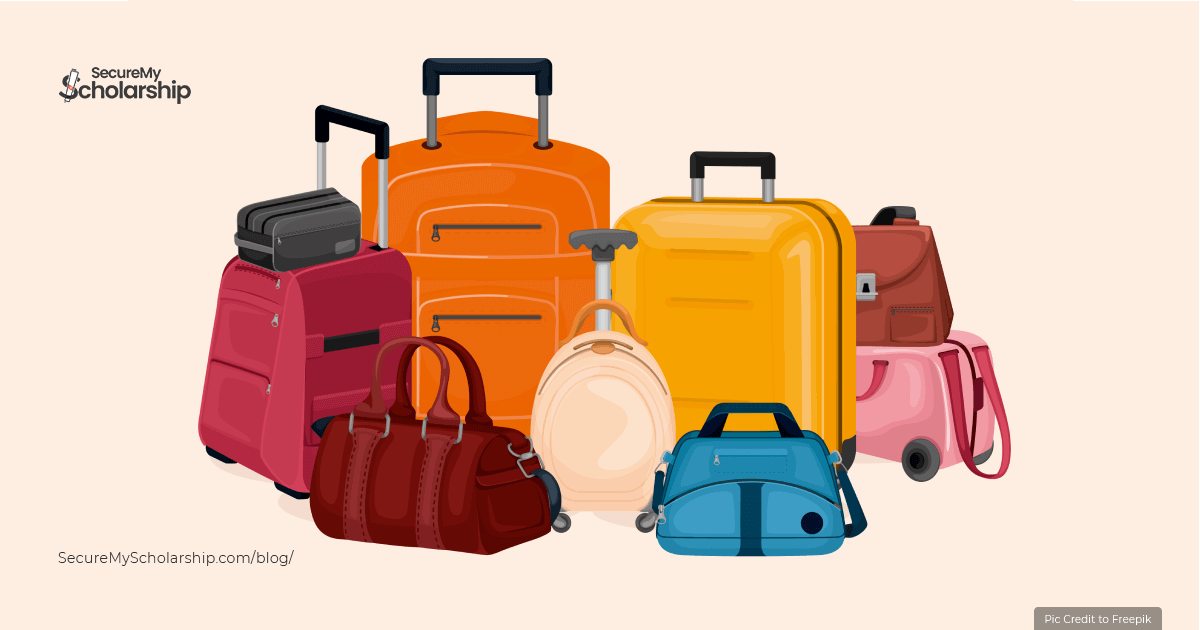 Let us get started with the detailed packing list for Canada that includes the travel documents and other necessary items. Further, giving you another shopping list that you can use when you reach Canada to set up your space. Moving to Canada is a big task and, in this hustle, and bustle, sometimes, we might forget to take up the useful items and end up packing the useless items. Therefore, keeping things in mind from a student's perspective we have created a general packing list for international students travelling to Canada:
1. Travel Documents
In your travel bag, take all the necessary travel documents such as a passport, visa, travel itinerary, etc. You must keep a handy bag for keeping all the documents in order because when you will check-in at the airport, you have to show all your documents for cross-checking.
Furthermore, once you are landed in Canada, you will again have to show all the documents, including the offer or admission confirmation letter received from the university.
2. Clothing
As you know, Canada is in the North American continent and geographically, it is a place where winters are too cold, especially at night. If you are an international student travelling for Fall Intake in Canada 2023 from Tropical countries, then you are not habitual of winters and you must pack your bags full with all winter jackets.
Pack appropriate clothing for the weather in Canada, which varies depending on the time of year and region. Consider bringing warm layers for colder weather, as well as a waterproof jacket and shoes.
Tip: Students buy contrasting colors jackets and shoes to even style themselves great throughout the year.
3. Personal Hygiene Items
In the hustle and bustle of packing documents, clothing and other important things, we often forget to keep intact personal hygiene items. The best is to keep a handy bag with you, which will include a Toothbrush, toothpaste, shampoo, soap, and any other personal hygiene items you use regularly.
Boys: You can also keep a bag including a trimmer, shaving cream, shaving gel, aftershave, razor, moisturizer, comb, hair oil etc.
Girls: You can have your daily morning routine and evening routine with face cream, serums, etc.
4. Medications
In changing weather, it is best to have your medical kit with all basic medicines. For headache and fever, you can have paracetamol, etc. The best is to visit your family doctor and check on previous medical records. Carry the prescription with all the details of the medication, such as dosage and usage.
Your medical kit must also include some external medications for wounds and scratches, such as antiseptic cream and bandages in case of emergency.
5. Electronics
Nowadays, without electronics, humankind cannot survive and especially for a student using electronic devices for studies has become essential. For instance, to connect with the college assignment updates, you need an email ID or google classroom access to get your assignment done and connect with your teacher.
You must have a Laptop to create presentations for your classroom projects and activities and keep in hand with its charger. Then comes the basic one, which is the phone to connect with your family and friends. You can have a digital watch to set the alarm and carry it while attending classes. Also, have a power bank in case of a power cut in your locality, and you can get your electronic device charged. In the end, don't forget to get chargers intact along with all the electronic devices you are carrying.
6. Financial items
Once you have got your admission confirmation letter, then apply for your international credit or debit card, which will be helpful for you after reaching your destination or at the airports. It is advisable to open a bank account from the nearest bank branch for your international transactions. Also, carry exchanged Canadian dollar currency with you.
7. Study materials
After getting confirmation of your admission, you will also receive your curriculum list for the upcoming intakes. The best is to keep yourself light by carrying one or two notebooks because it is not advisable to make your luggage heavy with books. Once your reach Canada, you can buy your study materials and textbooks for your course.
8. Additional items
Then the last thing you can have is some miscellaneous items such as an umbrella, camera, and any other personal items you want to bring along. This list is just a general guide, and you may need to add or modify items depending on your individual needs and circumstances. Don't forget to check with the airline or travel agent for any specific restrictions or requirements for carrying items onto the plane.
Now we have given another list of items that you can probably plan to buy after reaching Canada for setting up your accommodations.
Shopping List for Students Going to Canada
Here is a general shopping list for international students moving to Canada:
Bedroom essentials: Bed sheets, pillow, blanket, and other bedding items.
Kitchen essentials: Cookware, utensils, plates, bowls, cups, and other kitchen items.
Bathroom essentials: Towels, washcloths, and other bath items.
Laundry supplies: Detergent, fabric softener, and other laundry items.
Cleaning supplies: All-purpose cleaner, sponge, and other cleaning items.
Study supplies: Stationery, pens, highlighters, and other study materials.
Electronics: Phone, laptop, and any other electronics you need for your studies.
Clothing: Warm clothing for colder weather, as well as casual and comfortable clothing for everyday use.
Personal hygiene items: Toothbrush, toothpaste, shampoo, and other personal hygiene items.
Food and snacks: Non-perishable food items, snacks, and beverages.
We hope you got an idea of what to bring when you come as an international student to Canada and we believe that this packing list will help you a lot. Further, if you need any assistance, you can reach out to our admission counsellors, who are experts in providing the best education services.
FAQs about Packing List for International Students to Canada
Q1. How many bags are allowed for international students in Canada?
The baggage allowance for international students traveling to Canada can vary depending on the airline they are flying with. Most airlines have a baggage allowance policy that allows travelers to bring a certain number of bags at no extra cost. The exact number of bags allowed and their weight limit can vary between airlines, so it is important to check with your airline directly to get the most up-to-date information.
Typically, the baggage allowance for international flights includes both checked and carry-on baggage, and some airlines may also allow additional items such as sports equipment, musical instruments, or strollers. The baggage allowance can also vary based on the type of ticket purchased and the class of travel.
It is always advisable to check the baggage allowance and any additional fees for baggage that exceeds the allowed limit with your airline in advance to avoid any unexpected charges at the airport.
Q2. What can I bring to Canada as a student?
As an international student traveling to Canada, you are allowed to bring personal items and household goods with you. These items are considered to be for your personal use and should not be for resale.
Here are some items you can bring to Canada as a student:
Clothing and personal effects
Books, personal computers, and other study materials
Sports equipment and musical instruments
Kitchenware and small household items
Personal care and grooming items
Please note that there are some items that are restricted or prohibited in Canada, such as weapons, illegal drugs, and items that may pose a risk to the health and safety of others, such as fresh fruits, vegetables, and plants.
It is also important to check with Canadian customs regulations before you travel to ensure that you are aware of any restrictions or prohibited items, and to declare any items that are subject to duty or taxes.
Q3. What is the dress code for Canada College?
The dress code for colleges in Canada can vary depending on the institution and the program of study. Generally, Canadian colleges have a relaxed and casual dress code, but it is always a good idea to check with the college or program you are attending for any specific dress code requirements.
For most classes, casual and comfortable clothing is acceptable, such as jeans, t-shirts, and sneakers. However, for some programs, such as those in the healthcare or business fields, there may be specific dress code requirements, such as business attire or scrubs.
It is always important to be respectful of the dress code in a college or university setting and to dress appropriately for the occasion. This includes being mindful of personal hygiene and avoiding clothing that may be considered offensive or disruptive to the learning environment.
If you are unsure of the dress code, it may be helpful to contact the college or program you will be attending for clarification.
Q4. What should I pack for Canada from India?
Here are some items you should consider packing when traveling from India to Canada as a student:
Warm clothing, including jackets, coats, scarves, and gloves, as temperatures can be low in Canada, especially during the winter months.
 Comfortable and casual clothing for daily wear and for attending classes.
Rain gear, such as a raincoat or umbrella, as it can rain frequently in some parts of Canada.
A supply of any prescription medications you need, as well as over-the-counter medicines for common ailments.
Travel-sized toiletries, such as toothpaste, shampoo, and soap, as these items are readily available for purchase in Canada.
Electrical adapters for your electronics, as the electrical outlets in Canada use a different type of plug than those in India.
A few sentimental items from home, such as photos or cultural mementos, to help you feel more at home in a new country.
A copy of your passport, visa, and any other important documents, as well as extra passport photos.
It is also a good idea to check the customs regulations for both India and Canada to ensure that you are aware of any restrictions or prohibited items, and to declare any items that are subject to duty or taxes.
Q5. How much cash can I carry from India to Canada?
There is no limit to the amount of money you can bring with you when you travel from India to Canada. However, if you are carrying more than CAD 10,000 (or its equivalent in another currency), you are required to declare it to Canadian Border Services Agency (CBSA) when you arrive in Canada. This includes any combination of cash, travelers cheques, money orders, or other negotiable instruments. Failure to declare a large sum of money can result in its seizure by the CBSA.
It is always a good idea to have a mix of cash and other forms of payment, such as credit or debit cards, when traveling internationally. This can help to minimize the risk of loss or theft and ensure that you have access to funds in case of an emergency.
It is also important to be aware of currency exchange rates and to exchange your money in advance of your trip to Canada if necessary, as exchange rates can fluctuate and the cost of exchanging money can vary depending on the location and method used.
Q6. What not to take to Canada from India?
There are certain items that are restricted or prohibited in Canada, and it is important to be aware of these items before you travel. Here are some items that you should not take with you to Canada from India:
Illegal drugs or substances, such as marijuana, cocaine, and heroin.
Weapons, such as firearms, ammunition, and knives, unless you have obtained the proper authorization from the Canadian government.
Offensive or harmful materials, such as hate propaganda or child pornography.
Counterfeit goods or currency, such as fake money or imitation designer goods.
Fresh fruits, vegetables, and plants, as they may carry pests or diseases that are harmful to Canadian crops and animals.
Endangered species or products made from endangered species, such as ivory, fur, and leather products.
Illegal items, such as stolen goods or pirated CDs or DVDs.
It is always important to declare any restricted or prohibited items to the Canadian Border Services Agency when you arrive in Canada, as failure to do so can result in fines, penalties, or legal consequences.
It is also a good idea to check the customs regulations for both India and Canada before you travel to ensure that you are aware of any restrictions or prohibited items, and to declare any items that are subject to duty or taxes.