Highest Paying Jobs Degree – Many jobs have a shortage of competent experts to fill them, which is resulting in a higher demand for certain degrees. In great demand, these degrees usually require a high level of education and can take longer to earn.
If you have decided to join the college degree program, this is your initial step in your career. Having the proper degree can offer up additional options for employment, as well as a greater salary. The key to obtaining a good salary and pleasure from your career is to maximize your educational benefits.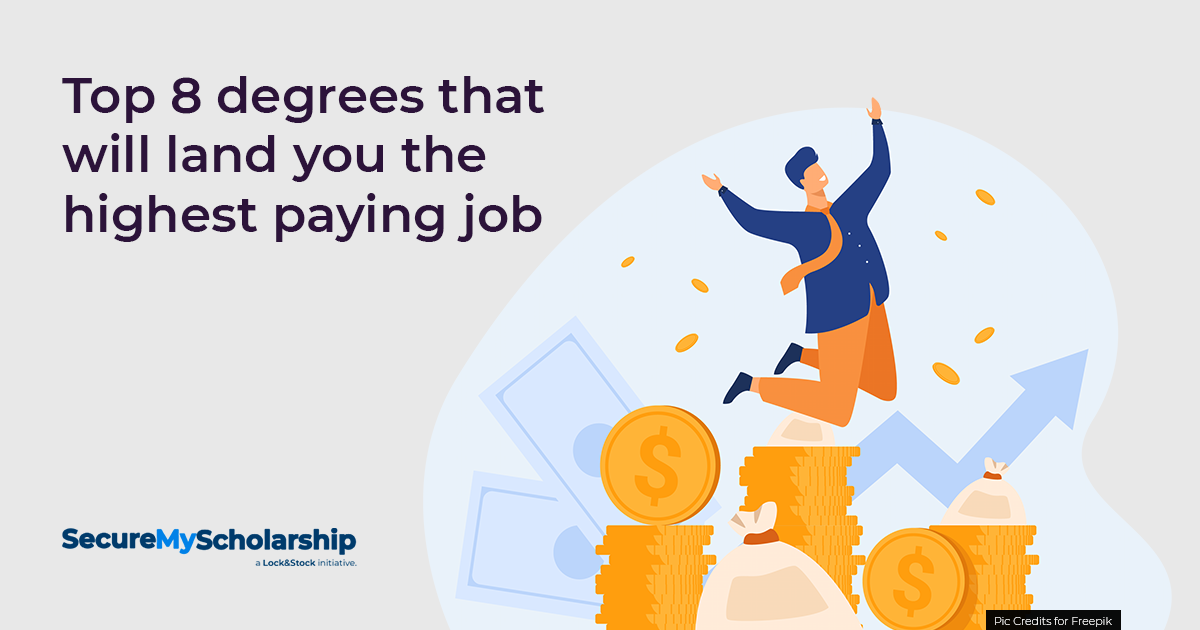 Highest Paying Jobs Degree
The following Highest Paying Jobs Degree have a good likelihood of landing you high-paying employment.
Computer Science and information technology
The entire world has gone digital and Computers are the driving factor due to which software engineers and IT professionals have secure prospects ahead of them. Software will always be needed, as the structure of computers continues to evolve and change.
Moreover, for better optimization of systems both software and hardware need to be updated.  More than half a million new positions are expected to be created in the computer and information technology industry by 2026, and this means that having a computer science degree is highly beneficial. Salary for the year tends to fall between $50,000 and $130,000.
Engineering
Engineers have a well-rounded understanding of logical reasoning and critical analysis. the ability to make decisions is improved the effort becomes more focused on objective goals and All of these abilities are critical in the workplace, no matter what industry you work in.
Projected job growth in the area of engineering is expected to be around 130,000 by the year 2026. Almost 40% of the spots on the list of the top 10 majoring in lucrative fields are filled by engineering programs.
Necessary for a successful engineering career: A typical engineering career is seen as being dominated by the primary engineering disciplines of chemical, computer, electrical, nuclear, and petroleum engineering. On average, your beginning salary will be approximately $60,000, but you may make up to $180,000 throughout your career.
Business Administration and Economics
Many individuals seek business administration degrees because they are in great demand. Students who graduate with a degree in Business Administration and Economics can enter the private sector in numerous roles, including becoming a manager, analyst, owner, or CEO, and the public sector as well. Business and Economics jobs are projected to grow 5% from 2019 to 2029, more than any other field. More than 476,000 new positions in business are expected to be created over this period. A Bachelor's degree in business will yield an average starting salary of $64,000 per year.
Finance
When it comes to finance degrees, the knowledge you'll receive includes everything from taxes to balance sheets. A forecast by the Bureau of Labor Statistics indicates that the need for financial analysts will rise by 5% over the next nine to ten years, while the demand for financial managers will expand by 15% over the same period. Career paths in the financial sector can range in salary from $81,000 to $129,000 per year.
Health Science/Medical
Students have an opportunity to get a career in the medical sector in several different ways. More than 60 different specialties are available to you. There are a variety of job options for those who want to be part of the medical sector. These options include laboratories, hospitals, and departments in other professional disciplines. Nursing and medical jobs are predicted to increase by 7-12% between 2022 and 2028, according to the Bureau of Labor Statistics. Depending on function and specialty, health care professionals may make $63,300 to $259,000.
Law
Law is an indispensable component of nearly every facet of human society since it encompasses both legal concerns and legal issues related to other subjects such as business, economics, politics, human rights, international relations, and commerce. The U.S. Bureau of Labor Statistics predicts that employment of attorneys will rise 4% over the next eight years, and the median annual salary for lawyers is $126,930.
Psychology
Psychology graduates may better comprehend human behavior and mental processes and get a deeper understanding of how we think, act, and feel. Recognition from businesses is growing as companies appreciate the analytical and reasoning abilities that a degree in psychology provides. The BLS estimates that the number of employed psychologists will increase by 3% from 2019 to 2029, and their median annual pay is $82,180.
International Relations
When you look at international relations from a scholarly perspective, it can be said that it is extremely in-depth on its own. The complexity of our globe necessitates an ever-evolving set of global relations that will remain stable while we continue to look for fresh and creative ways to connect it all together. Learning about International relations is enhanced by comprehending the complex nature of international interactions. IR graduates may earn between USD 35,000 and USD 100,000 with the World Trade Organization (WTO), the United Nations (UN), and NATO being the top employers.