Why do you want to Study Computer Science – When such an article comes up, it tends to add to the confusion of the reader as to whether the suggested proposition is really to their advantage or its another generic prospective that needs to be ignored.
To overcome this, I would highly recommend – a concerted effort into yourself (your strengths, deficiencies, and what motivates you) through deep self-introspection coupled with an unbiased prospective of the options which you can see through (enumerating your opportunities and assigning weights will assist in having a clear layout of the options ahead).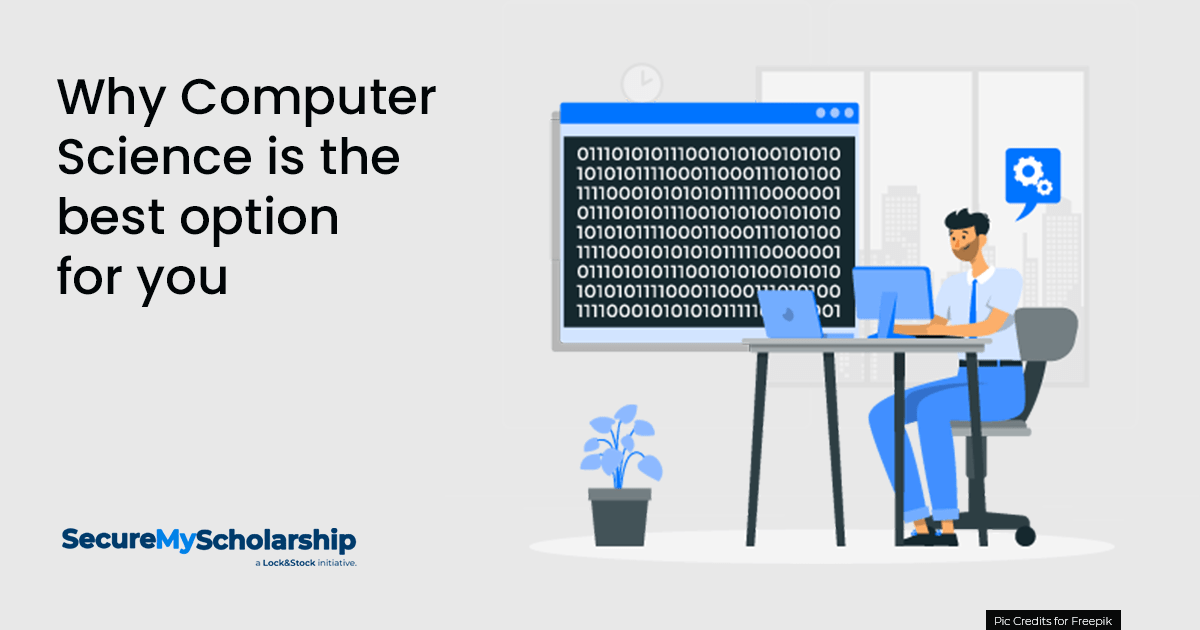 Why do you want to Study Computer Science
Doing the afore mentioned has benefitted me immensely and I believe this is one of the best approaches as you tend to get a clearer perspective and pick the seemingly best option without getting side-tracked or picking an option that may not be the best because of indecisiveness.
If you are someone at the brink, looking to delve into a career in information technology, or someone trying to weigh out their options and seeking a brief introduction to the benefits of computer science; the following information may be of immense help.
Computing and computer technology has become a seemingly hidden backbone of everything we tend to do; from the way we interact with others, the cars we drive, and even how business is conducted.
Building expertise in this field will enable you to solve complex real-world problems regardless of the industry or field. Attaining a major in computer science will provide a solid foundational base in problem-solving, logical thinking and can serve as a competitive advantage in any chosen field.
It requires a level of creativity and is rewarding for those looking to build and work with high-quality computing solutions – exhibiting high levels of elegance and beauty.
Though it may often be a team effort and working with people with different skill sets, there's plenty of room for individual flair and creativity. It is one of those fields where the future is limitless and what's coming next can't be predicted – delving into this discipline and building a skillset here is bound to change the trajectory of your career and professional development.
A few notable career options in the Computer Science:
Mobile app development – whether it be game development, working with fin-techs (banks and financial institutions), or software-based firms where there is a need for skilled individuals.
Working with digital agencies – this will help you develop incomplete fusion with the industry as you'll be working on a variety of projects and gain proficiency.
Working with a tech company – the options are in numerous and growing by the day, here you will tend to work with a single product or a specific array of products hence building expertise and mastery in the particular field.
This article would be incomplete without having a brief understating and options in programming, Computer programming is the process of designing and building an executable computer program to accomplish a specific computing result or to perform a specific task.
Programming involves tasks such as analysis, generating algorithms, profiling algorithms' accuracy and resource consumption, and the implementation of algorithms in a chosen programming language (commonly referred to as coding). ("What is coding" – Tumblr 2014).
The different types of programming to specialize in:
Front-end programming: the part of a website you see as a visitor
Back-end engineering: how the interface interacts with the database and all the information running in the background.
Full-stack Development: a combination of Front-end programming and Back-end engineering.
Web-Development and building internal software: internal resources used by a company – the internal dashboard and interface that employees work with.
Data Engineering and Data Science: Data Engineering focuses on practical applications of data collection and analysis while Data science is related to data mining, machine learning, and big data. Data science is a "concept to unify statistics, data analysis, informatics, and their related methods" to "understand and analyze actual phenomena" with data.
All these have been introduced only briefly, look into each discipline deeply to truly understand what it entails.
The reason people make a lot of money in this field is due to an acute shortage of talent, tech companies 'Need' good computer engineers with 4-year degrees – Bachelor of Computer Science, not certifications from boot camps which tend to last 12-14 weeks as the fundamental understating of the disciple and deep understanding required is lacking in such cases.
This is not to discourage you from taking a short crash course in computers, rather it is to emphasize the importance of having a 'Real Degree' in the field. A Bootcamp might make you a decent web developer but it's unlikely to get hired as a software engineer in the field.
Keeping these points in mind, the primary goal is to self-introspect and figure out what suits you best and then delve into understating the fundaments of the field before making an informed decision.
Best of luck for your career and apply through the SecureMyScholarship for the best scholarships for computer degrees at top universities across the globe: SecureMyScholarship. Feel free to contact us and secure your scholarship at a top university in Computer Science.