Why Get a Business Degree – When different scopes and degrees are weighed out, a general misconception that Business Degrees are not as significant as Engineering or Computer Science degrees tends to arise. The key feature which differentiates Business degrees from the other disciplines and specialized sciences is that – business degrees tend to provide a fundamental yet comprehensive understanding of the different branches such as Accounting, Finance, Marketing, Management;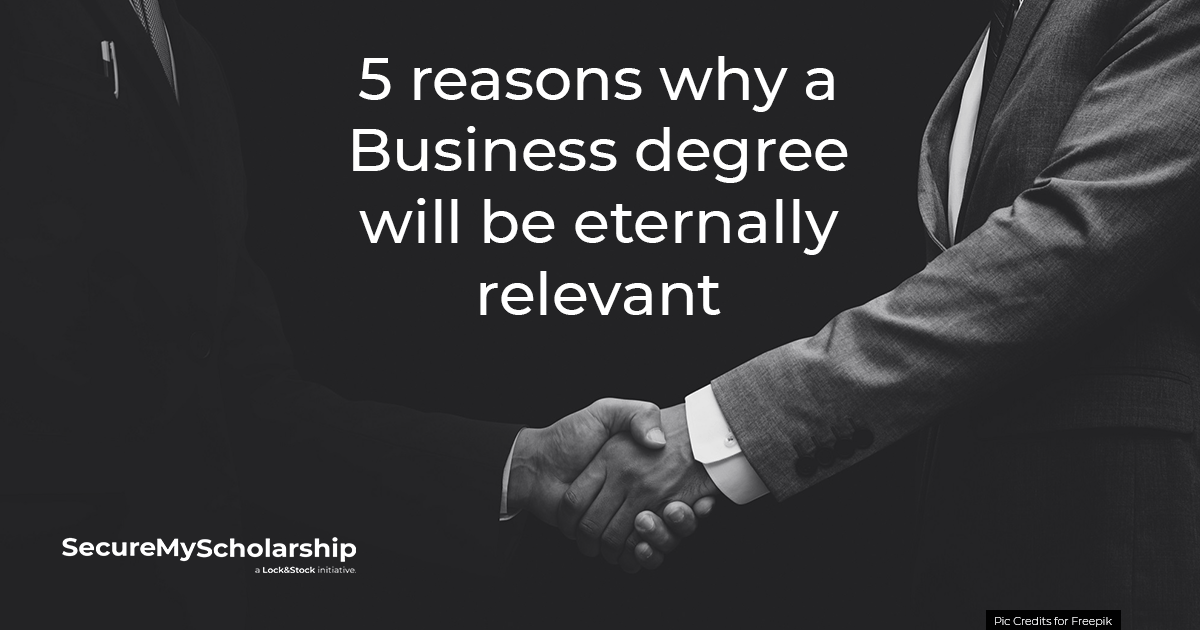 The concepts covered are essentially a framework for the way they are implemented and worked on in the real world. A point worth noting – Business Degrees provide a basic understanding of the concepts, and it's up to the individual's abilities and creativity to apply these and create meaningful impact.
Delving deeper into the topic of relevance, a degree in business will be eternally relevant!! The primary reason for this – these degrees provide a comprehensive framework of the disciplines involved and even though the way the world is facing compounded growth we as a species still execute most of the preliminary tasks in our lives based on foundations set by our ancestors early on.
Per se trade will essentially remain until we cease to exist as a species and the absolute changes to the field remain limited – we keep devising better ways to do things by generating ideas based on contemporary needs.
Browse through a comprehensive list of universities offering the Best Business Degrees in Dubai. Among the reasons to enroll for a business degree, here are a few which stand out:
Fundamentals – covered comprehensively – A business degree will span the basics of accounting, financial models and concepts, marketing techniques and strategies, and management theories and their application. This ensures a comprehensive overview of the disciplines involved providing the student with the necessary skills and knowledge of the field.
More than just theory -As the education systems face backlash and criticism – regarding the effectiveness, most universities have upped their game and offer exceptional opportunities in the field of business. The syllabus is also optimized to ensure relevance and hands-on experiences, and practical teaching methods provide a better outlook compared to similar degrees in the field from the past.
Practical experience – Most universities tend to offer internships, leadership, and mentorship programs to build the practical and relevant skills required in the real world. In this context, it's practically better to study a business degree, as you are better equipped to work and grow in your field due to the extra-curricular activities and experiences.
Real-World Application – No matter which field or industry you plan to work in, a degree in business will provide a better outlook and help devise better ways of doing things. The knowledge and concepts from a business degree can be applied practically in our daily lives and the techniques learned are essentials to living a well-rounded life – from managing personal finances to investing in stocks and funds.
Networking opportunities – Enrolling in a business degree in a university provides you with more than just your degree and the relevant skills and experiences – you get the opportunity to meet and work with students from different backgrounds and a great number of businesses and start-ups are founded by university mates.
In conclusion, a business degree will help you grow your career and build essential skills necessary to succeed in the real world, the fundamental concepts covered will remain relevant as discussed earlier – helping you develop a fundamental understanding. Apply for a business degree through SecureMyScholarship for the best scholarships at top universities across the globe. Feel free to contact us and secure your scholarship at a top university.