Advantages of Studying in India than Abroad – While living in India can be a challenging affair especially until you get used to the fundamental changes, it is often a rewarding and affordable experience. India is rather well known for its vibrant traditions, packed cities, and expeditiously growing economy; but on the flip side, a unique experience awaits you no matter where you plan to study in India.
India is breaching into the top global rankings – 24th the QS Higher Education System Strength Rankings, thanks to the top universities in India including IIT's, IISC's and AIIMS, among others. The country boasts one of the largest education systems consisting of many top-ranking universities, which is one of the top reasons to study in India.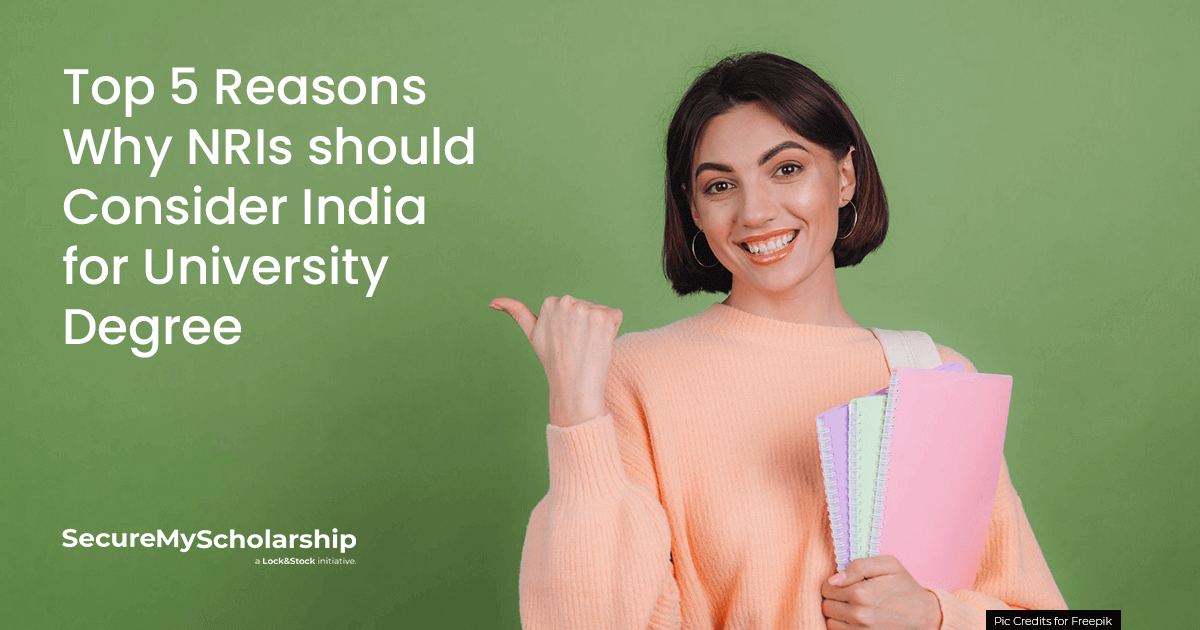 Among the top universities in India is Anna University – which has a special quota for NRI Admissions, Manipal University, VIT (Vellore Institute of Technology) among the many top-ranking universities. Feel free to contact us for further information and we offer the best scholarships in top universities such as Manipal, SP JAIN Mumbai when you apply through SecureMyScholarship.
Advantages of Studying in India than Abroad
Top Ranking Universities
The country has much more to offer students apart from dazzling cultures to natural beauty to diverse history. India being the second largest populous country in the world has undergone expeditious expansion in diverse fields, education being one of them. International students have thousands of universities and colleges to choose from. Attaining a degree from a top-ranking university is one of the top reasons to study in India.
Exceptional career opportunities
Being an emerging economy with substantial economic power, the Indian economy is currently ranked sixth. Home to a growing number of fortune 500 firms such as – Indian Oil, Reliance Industries, State Bank of India (SBI); along with ingenious start-ups which are disrupting norms and fostering innovation adding to the global tech industry. The metropolitan cities of Bangalore and Hyderabad are renowned for their technological and entrepreneurial ecosystems and are ranked among the most dynamic cities globally.
Cost of living
Studying in India may seem daunting to many at first. Practically, the cost of living is relatively low, while offering the world's best. In the past 4-6 years a rapid growth in Fintech, Online shopping, and increased availability of global brands has further improved the quality of services. Ride-hailing, food delivery services across major cities void the need to struggle with the basics and offer an array of affordable options. The cost of education in India is radically lower compared to giant education hubs such as the US, UK, and Australia.
Practical Exposure and Professional Development
In addition to a strong curriculum, India's educational institutions comprise a robust infrastructure that enables students to gain practical experience in their chosen career fields. Opportunities in India for research, internships, and careers with multinational companies make a conducive environment for professional development during and after studies.
India provides education beyond the walls of a classroom.
Beyond the classroom walls, you will find that daily life in India becomes a highly educational experience by exposing you to a unique cultural context. While you can make an argument for the distinctiveness of every country's national character, even then India remains on a plateau of its own. You cannot formulate what life is like in India until you truly experience it as a resident and even then, it is hard to put into words. Life in India is equal parts inspiring, frustrating, mesmerizing, and shocking.
Conclusion
The best Indian institutions are generally characterized by relatively strong scores for teaching environment and industry income but tend to perform poorly when it comes to international outlook compared with international counterparts. To overcome this and gain an upper hand, it's best to co-develop the necessary skills in your respective field of study and pick the best universities to gain a competitive advantage.
Apply through the SecureMyScholarship for the best scholarships in India.
A point worth noting – many universities are built-in and around luxurious natural campuses, allowing students to truly relish natural surroundings and connect deeply with nature. If you are seeking an experience rich in culture, art, tradition, heritage, history, innovation, and creativity to enrich your educational needs and great career growth opportunities – India is the place to be as its one of the fastest-growing countries in the world and its technology infrastructure is also expanding.