Best university to attend for a Degree in Gaming – Over the past few years, the gaming industry has observed exponential growth in terms of both popularity and performance globally.
With the advent of new equipment, cross play availability, free-to-play games, technological advancements, e-sports, streaming platforms, and innovative mobile games, the community has several options to choose from and can have an immersive entertainment experience.
The industry is currently valued at $159.3 billion, having generated more than $7 billion in 2020 alone to become the largest contributor to the entertainment sector worldwide and at this rate, it is estimated that the valuation will reach $300 billion in the next few years.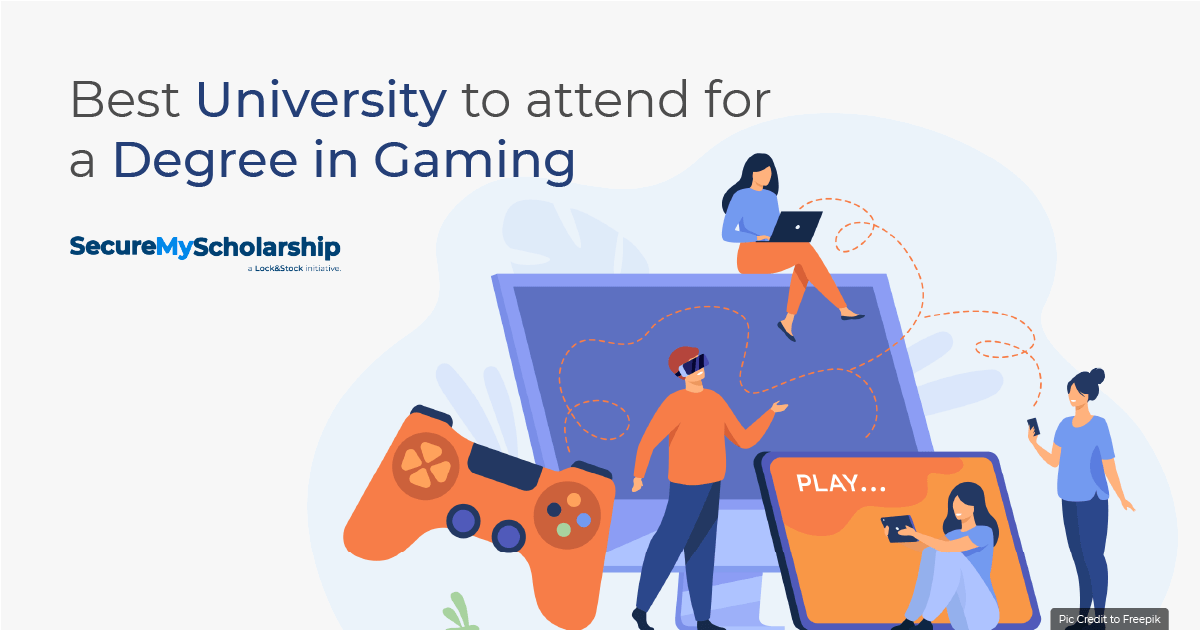 Which is the best university to attend for a Degree in Gaming
To meet the demands of the dynamic industry, game development studios such as Rockstar Games, Activision, EA, etc. seek developers who specialize in game programming, game designing, and game animation.
Many universities across the globe have introduced programs offering hands-on learning experiences to students who wish to pursue their passion for gaming and gain the necessary expertise and skills to become holistic developers.
According to Glassdoor.com, the average salary for entry-level game developers is $70,000, making it a lucrative career option.
It is a well-known fact that the nature of this industry is dynamic and with time both students and universities need to adapt to the new developments, so naturally, students should choose courses that are constantly evolving.
The school of design and informatics of Abertay University has recognized the importance of change in curriculum and implemented a dynamic model that adapts to the industry standards with time.
Abertay offers state of the art infrastructure, and well-structured programs, namely; a) BSc (Hons) in Computer Game Applications Development, b) BA (Hons) in Game Design and Production, c) BSc (Hons) in Computer Games Technology, and d) BA (Hons) in Computer Arts.
Each program has a unique aim that helps develop the technical and creative skills of programmers, while shaping their ideas, beliefs, and ethics and at the same time.
The institution has well-established partnerships with studios such as Sony, owing to which students at Abertay have many opportunities to work with industry professionals to gain insights.
Students can also make use of RnD facilities and laboratories to bring their innovative idea to reality. Abertay University was among the top 10 UK universities for Student Satisfaction as reported by the National Student Survey 2020.
In addition, the campus is situated at the center of Dundee, Scotland, famously known as the 'City of discovery', it has a rich history of innovation and creativity.
The campus is well connected with the city's public facilities, it is a cultural hub brimming with cafes, restaurants, and pubs. It's safe to say that life in Dundee is thrilling.
According to the Princeton Review 2021, the University was placed at the top in Europe for Video Games Education. Abertay has cemented its position as one of the premier institutions to study game programming and design.
All of the courses offered at the school are accredited and widely recognized by industry professionals as the best. Their alumni are scattered all over the world, employed by the best studios and have developed iconic games such as GTA. Do check out their beautiful campus on Minecraft!
Securing an admission at a university can be a daunting task with the burden of financial obligations, relocation, and even coursework could add up to the stress. SecureMyScholarship launched its scholarship portal with the sole aim of connecting students with potential scholarships and waivers, thereby reducing the financial burden on them.
We have maintained partnerships with over 1000+ universities, including Abertay. Students can avail offers on Abertay's foundation, undergraduate, and postgraduate courses on the portal.
We encourage all the gamers to explore their passion beyond the screen and the controller, dive deep into this growing field and develop skills to match the industry standards.